Know All About Hydraulic Shearing Machines
Posted by Admin on July, 13, 2020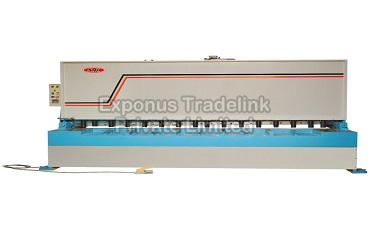 In an industry where there is a need to cut hard metal bars or iron steels, there is a requirement for a hydraulic shearing machine. The machine has rotary blades and disks that can cut into the hard irons. It has fixed upper and lower blades with adjustable clearance between the two. By applying the force on the steel or the metal, the sheet or the bar of the metal is divided into two. You can find these types of these machines through a hydraulic shearing machine exporter.

There are various categories that these machines fall into which are based on the shape of the blade. The linear blades in these machines are mostly used for thin metals, while the circular blades are used for thicker metals. These are also used for cutting metals into a circular form.

Different Types of Hydraulic Shearing Machines

There are various types of hydraulic shearing machines that you can buy the machine from a hydraulic shearing machine supplier in India.

• Bench shear: The main purpose of using this type of machine is to cut the rough edges of the metals. These machines are put on the ground for cutting metals. They are light in weight and can easily be cleaned.

• Power shear: This is a machine that is very useful and best for cutting hard metals irrespective of the size. It is usually powered by hydraulics for bulk jobs.

• Guillotine: Usually this machine is powered by hand or foot or mechanically. Cutting through this machine can take longer as it needs an operator to manually run this machine and cut the metals.

• Throat less shear: In this type of machine, the metal can be moved around to create a shape of your choice. It is flexible to use and is ideal for complex curves and cuts.

Benefits of Using the Hydraulic Shearing Machines

There are many benefits of using a hydraulic shearing machine.
• They are fast and very accurate making it easier to cut metals of any size and dimensions.
• These machines are very cost-effective and do not require a lot of maintenance.
• The machines are compact and hence, you are able to save a lot of space in your factory.
• They have secured clamps that make it safe and easy for the cutting process.

Buying the Hydraulic Shearing Machines
If you are looking for these machines for your industry, then you can get it from any hydraulic shearing machine exporter India. These exporters need to provide machines that are of high-quality. Unless you buy a high-quality machine, you will not get high quality output and you will need to deal with wastage of raw materials.

So, do your research and check out the best hydraulic shearing machine exporter from Gujarat and get your machines delivered to your doorstep. With these exporters, you will also be able to get your machines at a reasonable price. Your machines would be delivered to you with safe packing so that it does not get damaged during the transit period.
This entry was posted on July, 13, 2020 at 16 : 56 pm and is filed under Shearing Machines. You can follow any responses to this entry through the RSS 2.0 feed. You can leave a response from your own site.