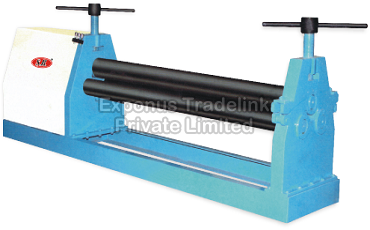 The industrial roll bending machine is the rolling machine for the plates. It is used particularly to shape and bend sheets. The cylindrical workpiece can be pre-bending and crimped after one fuel consumption in different specifications. It can also be used by an additional unit to roll the conical cylinders.

The metal rolling machine from an industrial roll bending machine manufacturer may also operate on the sheet metal with simple plastic. Without the help of the additional equipment moulds, four rolling plate machines will bend the plate end straight away. And the rest of the line is thin. It can roll piece before turning the plate similar to the asymmetrical tri-roll plate rolling unit. It not only increases productivity and guarantees the workpiece's accuracy. However, it is also easy to process and convenient to run. In addition, the worker's intensity would be decreased.

Metal working companies who need to increase the yield of their products pursue a device that can pre-bend, roll, and manufacture the products that they sell efficiently. We have a 4 roll hydraulic bending system and a 3 roll bending unit for double pinch plates, all of which provide great advantages. The 4-wheel machine offers great accuracy, efficiency, flexibility, speed, protection, and operational ease. In order to increase production and earnings, businesses in the manufacturing industry need high-quality machinery.

Here are some advantages of using an industrial roll bending machine and why you should take it into account for your production process:

Speed:
The 4 rolling machines are the most reliable bends. The upper and lower rolls of our MH are hydraulically operated to ensure minimal friction and accurate rolling. The machine rolls precisely and allows further output even though the machinery is at full capacity.

Accuracy:
The rollers work so that a pre-bound and rolling component is correct. Before bending on the three-rolling machine, a downward tilt is required when the plate is fed into the machine. In a 4-wheeled system, a horizontal load feed level for pre-bending is often used to feed the sheet before having to raise the sheet with motorised feed tables.

Ease Of Use:
An operator curves both sides before rolling the piece on three rolling machines. No such process is necessary for four-roll machines. The four-roller is more effective instead. Unable to work means less risk of mistake, but, above all, more time for production and savings in costs.

Accessory Equipment:
Alignment, pre-bending, and rolling can be managed centrally. Without damages to the edge of the plate, fast and secure pre-bending is possible. There is a piece of feeding equipment in the lower stock. The wrong side created during the rolling process can be removed. The loading system is used mostly for rolling large cylinders in diameter. The overhead elevator can be replaced by contacting an industrial roll bending machine supplier.

Final Words:
A linear, rotating step to create a bending is used by a roll bending machine from an industrial roll bending machine supplier in India. This form of machine is robust, simple, economical, and useful for bending bars. It's appropriate for many kinds of bars, such as round bars and bus bars. This is an important piece of facilities for any steelworks with high production capacities.
This entry was posted on January, 11, 2021 at 10 : 56 am and is filed under Roll Bending Machine. You can follow any responses to this entry through the RSS 2.0 feed. You can leave a response from your own site.